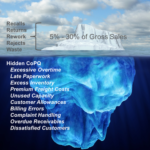 If you are like thousands of other OEM's, Key Tiers, and System Integrators, you probably have to deal with consistent quality control issues in parts of your key component supply chain. Your company worked hard to find the supplier that feels like the right fit, and now that you have one in place, it's hard to make a change. Why risk switching to a new provider if your current one is satisfying 95% of your manufacturing needs?
The reason is you're losing value in your supply chain and it's negatively impacting your company. Just because you can live with a problem doesn't mean you should. A supplier with quality issues is only doing part of the job you're paying for, and the 5% of deliveries that aren't satisfactory can increase costs across your entire business. Repeat quality issues at delivery or defective components from your suppliers affect your output, scheduling, marketing, pricing, and eventually, your bottom line.
The True Cost of Low Quality
As an OEM, Tier or System Integrator, it is crucial to weigh the small potential risk and inconvenience of switching or upgrading suppliers against the significant risk of continuing to use unreliable components.  In manufacturing, every single choice, purchase, design, schedule, and cost has major implications downstream. It's important to be aware of your total cost of poor quality (COPQ).
In all aspects of change in your business or even personal life, how many times do you say to yourself that you wished you had made "the change" earlier?
Defective or inadequate products or poor delivery performance from your current supplier can lead to major cost overruns. Repairs, redesigns, service calls, warranties, and other forms of waste are among the risks facing manufacturers when they decide that they can live with quality issues. Beyond these more easily measured costs are the intangible costs incurred from a damaged reputation, lost or dissatisfied customers, and time spent resolving issues.
Can You Afford the Status Quo?
Many manufacturing companies decide they can do business with the typical Cost of Poor Quality (COPQ), which is between 5% to 30% of gross sales. Even though the COPQ can ultimately add up to millions of dollars, many companies are intimidated by both the prospect of finding a supplier who can better satisfy their needs and the process of making a change to the new supplier.
Just because your supplier is able to fulfill custom manufacturing needs, doesn't mean they're the only one qualified to do so. While companies might assume switching suppliers is a risky maneuver, the larger risk is often staying with a supplier that is a substandard performer and/or delivering lower quality product than needed.
In addition to the risk of defects and low product quality, many companies live with poor customization options and other impediments. Related costs or limitations are built into new products because of the fear that switching to a new manufacturing partner will result in complications.  The old adage; the fear of losing $100 is more intense than the hope of gaining $150.   This is true in manufacturing—although on a larger scale—where the fear of minor costs related to changing suppliers can overshadow the opportunity to benefit from more reliable output.
Make Quality Improvement a Priority With Trumble
We understand why most OEM's, Key Tiers, and System Integrators feel they can't justify researching a new supplier and risking major setbacks by making a switch. They live with variations in quality because their business model is too risk-averse to consider a new supplier. Many companies have been burned before, and don't feel comfortable taking the risk of switching providers again.
But you shouldn't have to compromise and risk delaying your production schedule by working with an unreliable supplier. When quality issues occur, it's you and your customers who will feel the impact.
Turn to Trumble, Inc. for a reliable partner to add transparency and real-time visibility at all levels of your manufacturing Eco-system with their Plant Floor Intelligence solution called REVEAL .
REVEAL architecture enables real-time analytics for single site to multiple facilities, and from supplier sites to OEM with continuous monitoring 24/7 of the manufacturing processes across the entire value chain, automatically alerting the right people to take action before losses occur through a single dashboard.  REVEAL can do this!!!
How cool is it to have complete data transparency at suppliers enabling the OEM to adjust in advance of shipments to prevent stack-up issues?  REVEAL has this ability, a win for both supplier and OEM.
With over 100 combined years of experience in manufacturing, the Trumble team can help solve your most complex challenges quickly and cost-effectively.
As Jeff Trumble said over a century ago, "Quality is never an accident, it is always the result of an intelligent effort." That is why providing a turn-key solution delivering complete visibility on day one along with white-glove customer service is part of the Trumble culture.  Contact Trumble to learn more about how they help control costs and quality on every part.